Wow, June already. Time flies in the enjoyable world of translation and technology.
I embraced the cloud 6 years ago having evaluated the benefits of Platform and Software as a Service and believed in, what was then, a future vision of all kinds of intelligent distributed services which would be impossible to achieve with a private, internal infrastructure. It was interesting to see that light bulb flash on for non-cloud using attendees at Microsoft's Red Shirt Dublin event with Scott Guthrie last week.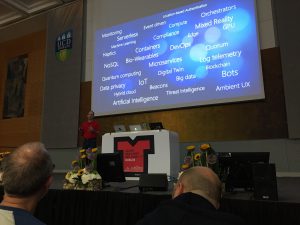 Scott took us on a whistle-stop tour of Azure facilities from Functions (a few lines of code executing logic on demand) to arrays of GPU's running Deep Learning algorithms capable of doing face recognition and sentiment analysis.
Within the development team at work our utilization of such technologies continues: Neural Network Machine Translation; Adaptive Machine Translation; Continuous Integration; Distributed Services; and Serverless functions and logic.
At the Research end of the scale, having successfully completed our most recent European Project, I've been re-engaging with local research centers and interest groups. This month's and last month's Machine Learning Meetups were testament to how dominant Deep Learning is in driving business success and competitiveness.
And because working hard has to be balanced by playing hard I've ramped up sailing to three times a week.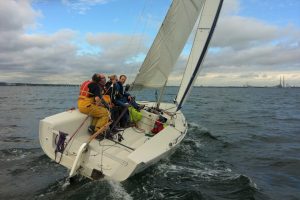 The Cork 1720's I go out in are just wonderful boats.
We started the year with some operationally complex, significant impact projects. Progress has been slower than I would have liked but ensuring we have a solid base upon which to build is critical to the overall success. My impatience is to realize some of the potential gains now but the collateral risk is too high. So, at the midpoint we are looking at a busy next two quarters to get everything we want done but the team is well capable.