The beginning of 2014 has been a hive of activity: San Francisco, Boston, Luxembourg, team re-structure, and new research interests.
Until now a hectic travel schedule has meant generally more input (reading reports, e-learning videos, and thinking through ideas) than physical output. However, with the increasing prevalence of in-flight wifi and Google QuickOffice for iPad, I have been able to work more in real-time despite being on the move.
With the extended travel and inevitably longer periods of being sat on my backside, I wanted to get sorted with a Sit Stand Desk. This is actually quite difficult if you want to avoid spending several hundred Euro and not have to get Allen Keys and screwdrivers out. My solution is this: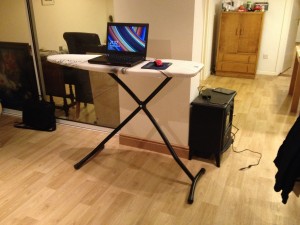 Seriously, I'm delighted with it. It is portable, easily stored, is stable, spacious (450 x 1,350mm) and fully adjustable between 610-1,020mm. Total cost including purchase, transport and installation: €130.
One benefit of travel is of course meeting friends and business associates. San Francisco was the chance to socialize with our friends and development partners, Spartan Software.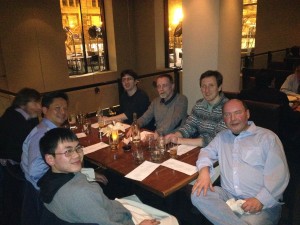 Kevin Lew, Yan Yu, Scott Schwalbach, Chase Tingley, Paul Magee, Chris Pimlott, Me.
Luxembourg was an opportunity: meeting many of the Multilingual Web LT Working Group. I hope to have an opportunity to work with these people in the future.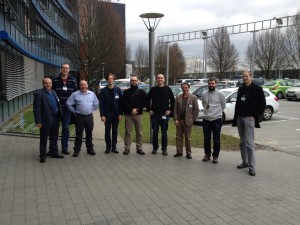 Pedro Díez Orzas, Milan Karasek, Me, Stephan Walter, Jirka Kosek, Felix Sasaki, Dave Lewis, David Filip, Tadej Stajner.